Roofing contractors always suggest replacing damaged roofs and gutters simultaneously. Is it so? It is commonly asked when people think about repairing or replacing their storm-damaged roofs. The rain gutter is not the biggest investment or the most visible part of your home structure, but it is the most important element that provides defense against harsh weather conditions.
Gutters protect the value of your home and funnel the water away from your house, diving a leak-free defense against water infiltration. Gutter replacement and maintenance are essential for the health of your roofing system, especially during hurricanes and storms. Regular maintenance and on-time repair can help your gutters work effectively.
Professional roofing contractors suggest replacing your gutters simultaneously as a roof, but you don't necessarily have to change it with the roof. Sometimes, you can repair the gutter instead of replacing it with the new one. Are you considering replacing your damaged roof but unsure whether you should replace your gutter? In that case, you can get unbiased advice from the professional roofers of Insured Roofs. We are the most trusted and professional commercial and residential roofing specialists, aiming to provide our customers with top-notch roofing repairs and replacements.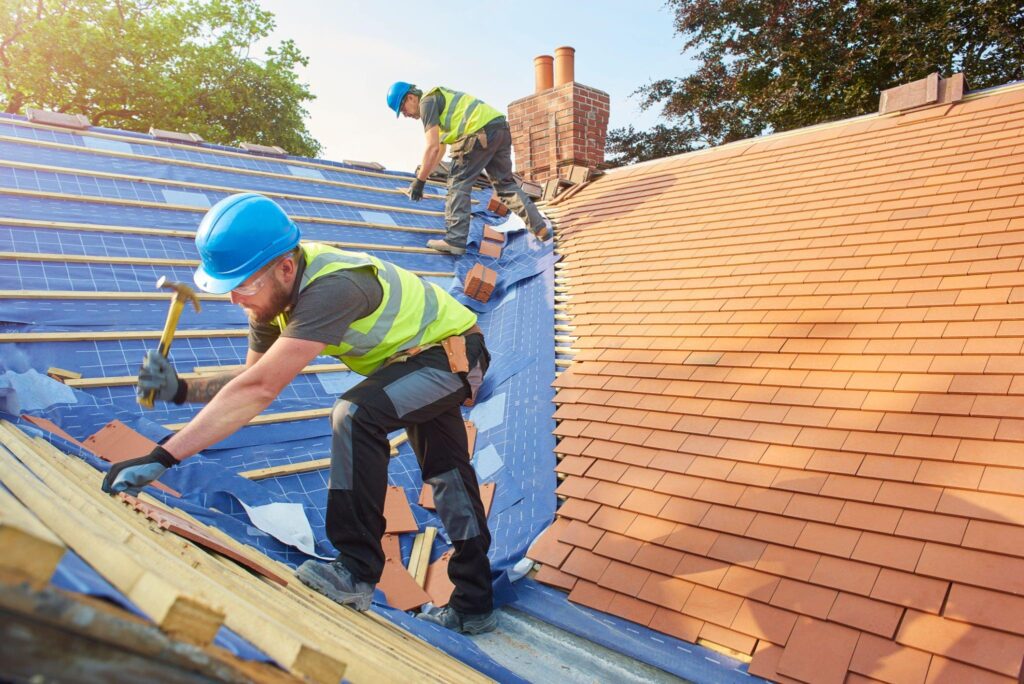 We bring the most experienced and professional roofing contractors who suggest replacing the gutters simultaneously as replacing your damaged roofs. Your roofing system and gutters run together to maintain an efficient water flow and keep your house free from debris and water leakage. It is also possible that the old gutter is incompatible with the new roofing system you installed, which can affect the water flow in your house.
Above all, replacing gutters with damaged roofs can help you save labor costs by hiring only a single roofer crew. You can integrate the working of your gutters and roofing system to give your house a refreshed look.
A gutter system provides an integral role in the protection of your home. It diverts the water away from your house instead of allowing it freely move from your roofing system. Replacing the gutter system with the damaged roofs can help you protect the foundation of your house in the following ways;
Protect and expand the lifespan of your roofing system
Prevent flooding around your home during storms and heavy rains
Protect your siding
Protect water from penetrating your house's interior
Prevent your home's foundation from settlement and cracks
Damaged, old, or clogged gutters can damage the value and foundation of your home. A clogged gutter can allow water to penetrate your house under the metal shingles. The whole foundation and structure of your roofing system are based on the shingles.
If you're unsure whether you should invest in gutter replacement when replacing your damaged roof, you can use the following ways to make a final decision.
Water Damage
It could signify water damage if you notice the signs of rust deposits or peeling paint. Puddles at the exit point of your gutter, water overflow, and standing water in your yard indicate that your gutter needs to be replaced with the damaged roof.
Gutter Dependability
Before replacing your damaged roofs, determine gutter dependability to check if it needs to be replaced. Walk around the perimeter and inspect your gutter system to check if it is sagging, cracking, showing dents, creating water overflow, or water damage. If you notice these gutter damage signs, it is time to replace your gutters with damaged roofs.
Ineffective Gutter System
If your gutter system is old, damaged, defective, or not working properly, it can cause water to penetrate the house's foundation, resulting in moisture and algae growth.
Common Signs Your Gutter is Affecting your System
Regular maintenance of your gutter is crucial to maintain better water flow and increase the lifespan of your roofing system. Regardless of what material they're made from, gutters need to be replaced or repaired over a specific lifespan. A clogged, old or damaged gutter system can affect your roofing system in the following ways;
Algae Growth
Algae growth on the lower portion of your roofline can indicate that your gutter system negatively affects your house roofing. The water leakage and moisture can cause algae growth in your roofline, affecting the overall foundation of your house. If you notice the large growth of moss or algae, pay special attention to your gutter maintenance or replacement.
Broken/Dented Gutters
Dented or broken gutters can result in improper drainage, affecting the water flow of your house. If the water is not flowing properly from your gutters, it can cause moisture or buildup in your roofing system. Moisture in your roofline can damage your roof shingles.
Formation of Ice Dams
If you feel the formation of ice dams in your house during winter, it could indicate that your gutters need to be replaced with your damaged roofs. The formation of ice dams on your roofs can cause expensive damage. That can't be solved only by replacing the damaged roofs. You can only diminish the formation of ice dams and extend the lifespan of your roof replacement by replacing or repairing your gutters.
Find a Reliable Roofing Company to Examine your Gutters
It is great to rely on a professional roofing contractor to examine the overall condition of your roofing and gutter system. They can inspect every aspect of your roofs and gutters to identify whether you need to replace gutters when replacing your damaged roofs.
Insured Roofs can be your right partner if you are looking for professional commercial and residential roofers near me. We at Insured Roofs have knowledgeable and skilled staff to cater to your roof repair and replacement needs. Being the most trusted and professional roofing company in the area, we're determined to provide our customers with top-notch roof repairs and replacement solutions.
Get in touch with the professional staff of Insured Roofs! We will get unbiased advice about if your gutter needs to be replaced with your damaged roof. The expert roofing contractors are at service!