Commercial roofing installation is a complex and time intensive process compared to residential roofing installation. Installing commercial roofs is a big job for roofers and business owners. If this roof installation is not performed properly, it can result in expensive repairs in the future, affecting the overall performance of your business. Understandably, all business owners want to know how long commercial roofing installation takes.
Professional roofers can give you a proper estimate after consideration of several factors such as the type of commercial roofing, roof coating, weather conditions, and permits.
Contact the expert team at Insured Roofs to learn more about commercial roofing installation and the factors that can affect your timeline.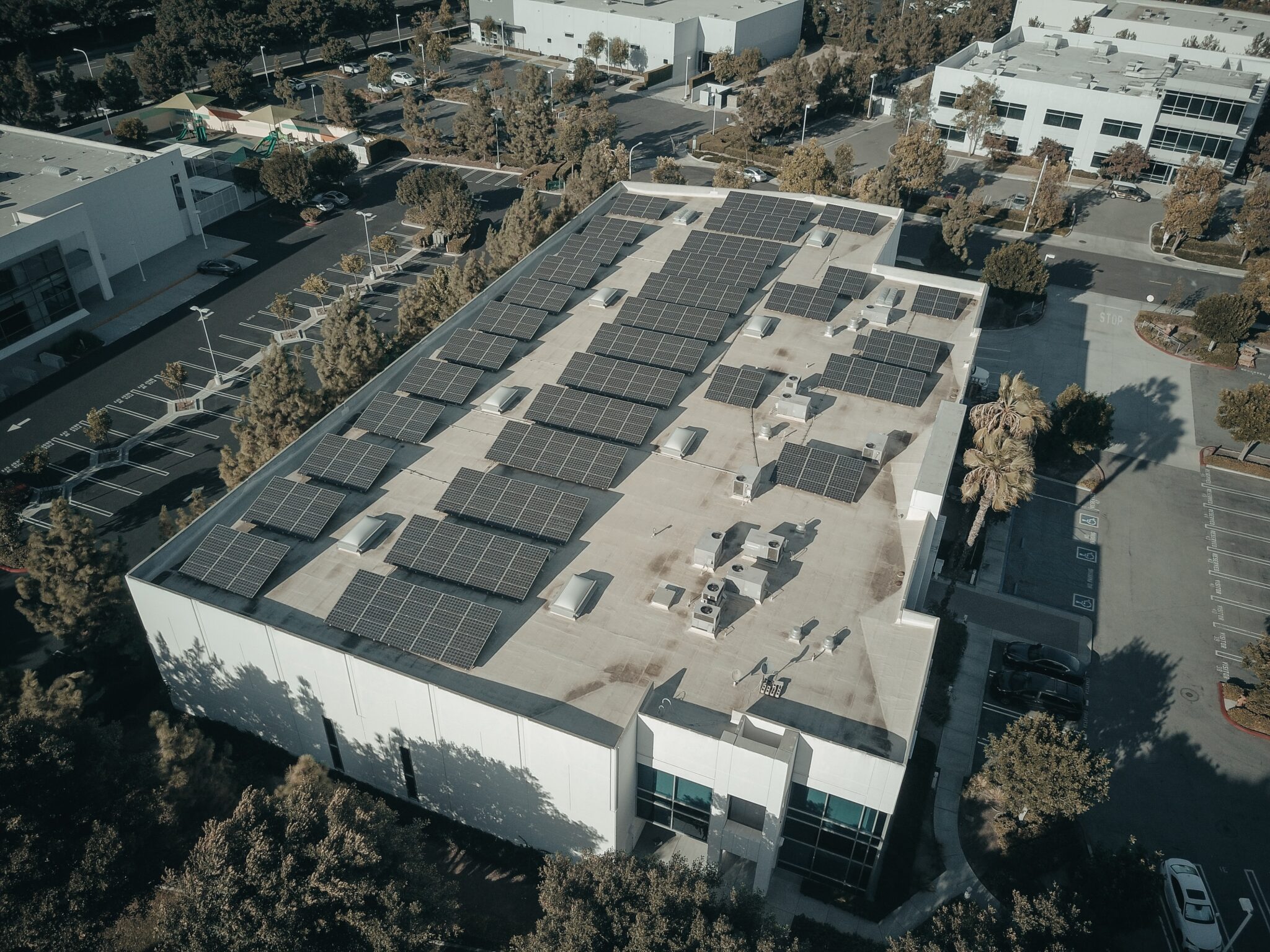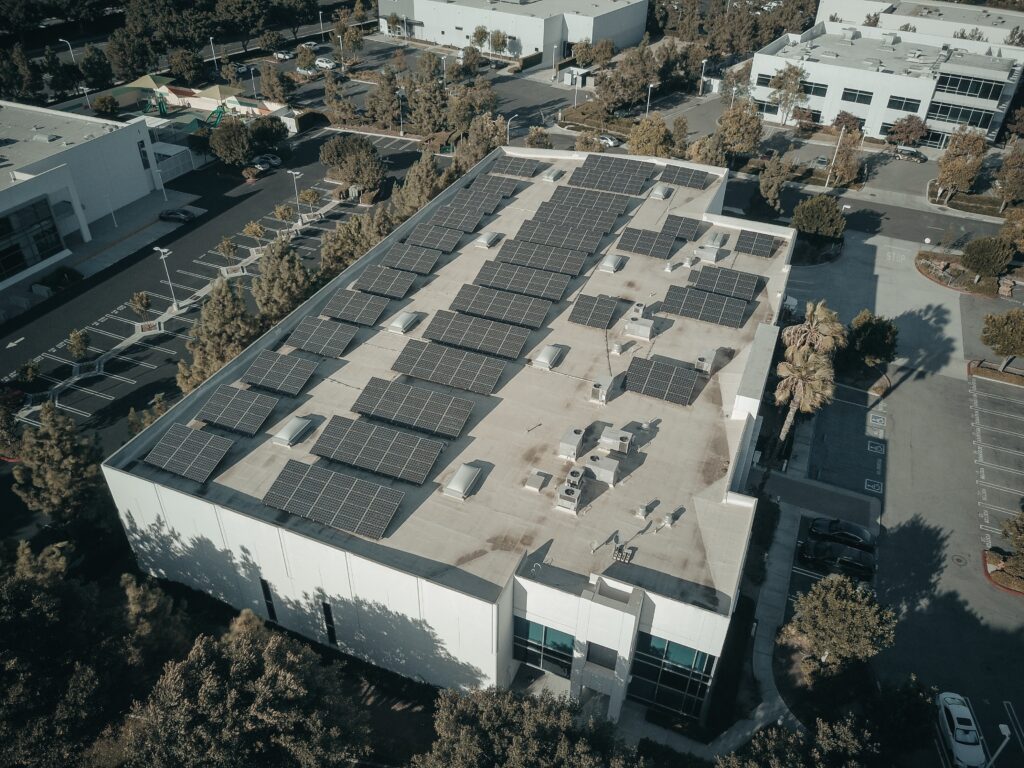 Factors Affecting the Timeline of Installing a Commercial roofing system
Type of Roof
The type of commercial roofing you choose for your business greatly impacts your commercial roof installation time. In general, business owners prefer the following three types of roofs;
Flat Roof
Flat commercial roofs are often easier and cheaper to install as they need fewer roofing materials to complete. Business owners can also install satellite dishes, cooling/heating systems, and other necessary equipment on flat roofs. However, these commercial roofs require preventative maintenance to avoid the risks of leaks and water spots.
Pitched Roofs
Pitched roofs are commonly used in residential properties, but some business owners still prefer them for their commercial buildings. These roofs require extra installation time as they require larger roofing materials. Pitched roofs drain water and snow, making them less prone to mold growth and water damage.
Low Sloped Roofs
Low-sloped roofs are used in residential homes, apartment buildings, and commercial businesses. These roofs are easy to install as they require less roofing material. They can run off water and drainage easily.
Roofing Materials
Roof installation time also depends on the roofing material you choose. A meta roof requires more time and roofing material than gravel and tar roofs which are often easy to install. A metal roofing system requires more installation tools, structural design elements, and roofing material, taking more installation time. You can use the following roofing materials for your commercial roofing system;
EPDM roofing membrane (thermostat)
PVC and TPO roofing membrane (thermoplastic)
Modified Bitumen roofing
Metal roofing
Green roof
Built-up roofing (BUR)
The availability of the roofing material you choose can also affect the commercial roof installation time. If your selected material takes a longer period to be created and shipped, it can result in greater installation time.
Weather
Along with roofing material, roof type, and availability, the weather is an important factor affecting commercial roof installation time. Before starting the project, you must consider the weather conditions and forecast, as high winds, snow, and heavy rain can delay your commercial roofing installation project. Starting any construction project in harsh weather conditions can be riskier for the construction team.
Things to Expect from a Commercial Roofing Company
Professional commercial roofing contractors use a systematic and organized approach to effectively complete the roof installation project. You can expect the following things when calling a professional commercial roofing contractor;
Examination of the Existing Roofing System
If you want to replace a damaged commercial roof with the new one, the first step is to examine your existing roofing system. It will help roofers identify the structural damages that may arise from the damaged roofing system.
If roofers find structural damage inside or outside the building, they recommend repairing these issues first. A commercial roof installed on a damaged or shaky structure won't last long. Your roofing contractor will also inspect your existing roofing system's insulation, integrity, and flashing.
A professional roofing conductor will examine every nook and cranny of your existing roofing system to understand whether it needs to be repaired or replaced. After the roof inspection, roofers will provide you with an estimated cost and time of your commercial roof installation.
Deck Examination
After inspecting the structural damage, your roofing contractor will inspect your roof deck to identify the signs of water damage. If they find any damage in your roof deck, they will suggest repairing them first. If water enters your building through the roof, your roof deck may have damage or cracks. Many business owners overlook the water spots until it starts leaking, resulting in expensive damages.
After repairing your roof deck, your roofer will install a new layer of insulation on it to make your roof more energy efficient, reducing the high energy bills.
Remove the Damaged Roofing Material
After repairing all the structural and roof deck damages, your roofers will clear your old and damaged roofing material. If you want to replace the entire old roofing system with the new one, it will naturally take more time and effort for the roofers.
Installation of New Roofing System
The final step is the installation of a new commercial roofing system. This installation process may take several days to complete depending on the roof type, weather condition, and your selected roofing material.
After successful installation, your roofing contractor will inspect the roof to determine if it is installed perfectly. Your roofers will also clean up all the mess by themselves, ensuring minimum disruption at your workplace.
Find the Best Commercial Roofing Contractors
Roofing is the most integral element of your commercial building. Replacing your damaged commercial roofing system with a new one protects your business from the consequences of harsh weather conditions.
Insured Roofs has a team of professional commercial roofers to provide business owners with tailored results. Our high-quality workmanship and devotion towards our work help us excel from the other roofing companies. The professional roofers of Insured Roofs ensure completing the commercial roofing installation project on time and within budget, providing maximum quality work.